It's no secret that Billie Eilish has taken over the world of pop music. She's everywhere! One of the most endearing elements of Billie's ascension to stardom is the bedroom studio production process she shares with her brother and producer, Finneas. The fact that two twenty-somethings can create global smashes with a minimal set-up is inspiring for a whole new generation of music makers.
In the newly released documentary The World's A Little Blurry, we get a look at Billie's career so far and a window into her creative process. Showing scenes from the recording environment as well as stadium level tour stops, we hit pause whenever gear came up on our screen and took notes of what Billie and Finneas are utilizing. Check it out below!
Neumann TLM 103 Microphone
The Neumann TLM 103 has become a favorite microphone for engineers tracking artists in both large recording studios and bedroom studio set-ups. With its open, clear tone, the TLM 103 delivers a sound reminiscent of the classic U87 with a much more friendly price tag. The microphone's self-noise is incredibly low, making it a great choice for Billie's brand of whispery, delicate vocals.
As the "TLM" name suggests, the 103 is in fact a transformerless mic with a very natural, uncolored sound. The TLM 103 is incredibly popular for engineers like Finneas, who need a radio-ready, high-end sound, while in a form factor that's easy to bring on the road with you. Although the TLM 103 was designed to be a "value" mic, you'll never once hear anything tracked with it sound less than brilliant.
Universal Audio Apollo Twin Audio Interface
It's no surprise to see Billie tracking through an Apollo Twin, as the Universal Audio has become a standard since its creation. The Apollo Twin's success is directly linked to its fantastic Unison preamps, elite-level A/D conversion and travel-ready form factor. Offering two onboard mic preamps, the Apollo Twin allows you to record pristine sources or use emulations of classic mic pres to color your sound. The interface comes with a suite of critically acclaimed UAD plug-ins, which users can use during tracking, mixing and mastering.
Using the Apollo Twin as the means to record and mix while on tour, Billie and Finneas join the ranks of masses of artists who turn to the interface while on the move. With its small, robust housing, the Apollo Twin is easy to toss in your travel bag without fear of breakage. Those needing to demo out new ideas while touring will find the interface a stellar option, as it quickly sets up when needed, while still delivering a sound that screams "pro studio."
Since the making of Billie's first record, When We All Fall Asleep, Where Do We Go?, it seems as though Finneas has upgraded his rig to include a rackmount Apollo x8 audio interface.
Akai MPK Mini MIDI Keyboard
As one of the most convenient MIDI keyboards on the market, the Akai MPK Mini is a compact 25 key MIDI controller that's barely the size of an average laptop. It's hard to beat on portability. Simply plug it right into a USB port and get to work, as the MPK Mini is bus-powered and has no need for a power supply. The included bank of eight MPC pads makes it easy to program drums, make beats and more with ease. The included thumbstick allows for control of modulation and pitch bend seamlessly, and each knob on the MPK is easy to assign for plug-in control. With a budget-friendly price tag and excellent features, this MIDI keyboard from Akai is a home run for producers, beatmakers and engineers working on-the-go.
Yamaha HS5 Studio Monitors
The documentary shows plenty of scenes inside a home studio where Billie and Finneas can be found next to a pair of Yamaha HS5 monitors. These active 2-way monitors are ubiquitous in home studios because of their pleasant, revealing sound and excellent price. Engineers over the decades have come to trust Yamaha's accurate monitoring, and the HS5 carries that torch of affordable, straightforward sound during playback. Designed to give you a flat, honest idea of your mix, it's hard to go wrong with the Yamaha HS5 at less than $500 a pair.
Audio-Technica ATH-M50X Headphones
Throughout the production scenes, Billie and Finneas reference their tracks on the Audio Technica ATH-M50X headphones. As one of the top offerings from Audio-Technica, these headphones have clear, unbiased responses to show you the strong spots in your mix while revealing the areas that need attention. The ATH-M50Xs make for a comfortable, affordable pair of headphones that really help you fine-tune your productions.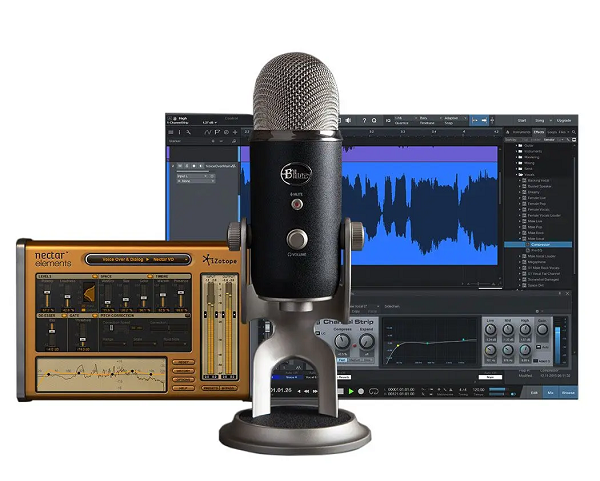 Blue Microphones Yeti Pro Studio USB Microphone
Before tracking with the Neumann TLM 103, Billie and Finneas are seen reaching for a Blue Yeti microphone during the demo process. Perhaps it's the ease of use that drew them to the Yeti, as the USB input makes setup quick and easy. Those stumbling upon a new melody or lyric idea for a track can turn to the Yeti to lay down their idea in seconds and get a surprisingly nice tone for the price.
In fact, the Yeti has become something of a standard for both podcasters and musicians. Those who want an affordable and streamlined way to get those ideas out of their head and onto a track love the iconic Blue mic. At less than $150, the Yeti offers a lot of mic for those just getting into the world of demoing their own tracks.
If you want to watch Billie Eilish's The World's A Little Blurry, you can stream the documentary on AppleTV+.
If you are interested in creating a project studio set-up for your home, we're here to help! Please contact a Vintage King Audio Consultant via email or by phone at 866.644.0160.