Vintage King's Black Friday Sale is back and better than ever with 1000s of ways to save on all kinds of studio gear. If you don't feel like scrolling endlessly through our massive list of deals then we've got you covered. In this blog, we'll spotlight some of the favorite ways to save on audio interfaces, software, instruments, and more.
Black Friday Deal: Free Edge Note or Edge Solo Modeling Microphone With Select Antelope Audio Interfaces & More
Product Spotlight: Antelope Audio Zen Go Synergy Core Interface With Free Edge Note
Antelope Audio's interfaces always come with a number of plug-ins, but during our Black Friday Sale, you're getting something extra! Depending on which interface you purchase from Vintage King, you'll receive a free Edge Note or Edge Solo modeling microphone. We're all about the entire Synergy Core line, but the Zen Go is the perfect option for your desktop. Throw in the Edge Note small diaphragm condenser modeling mic for free and you're all set! 
Black Friday Deal: Save Up To $200 On Apogee Interfaces & Microphones
Product Spotlight: Apogee Symphony Desktop Audio Interface
Apogee's Symphony Desktop is the latest release in the brand's storied Symphony I/O series. The stunning and sleek desktop USB audio interface brings the excellent AD/DA converters and preamps of the rackmount Symphony I/O MK II to your desktop. Simply connect the Symphony Desktop to your computer, and you'll instantly get 10x14 I/O with built-in FPGA processing for use with a suite of Apogee plug-ins.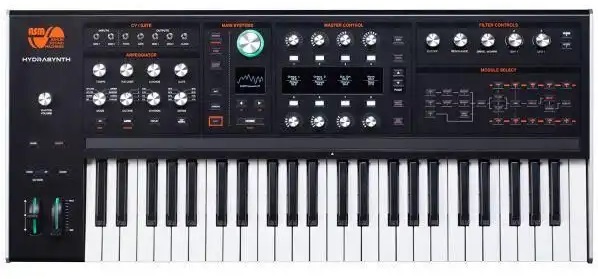 Black Friday Deal: Save On ASM Hydrasynths
Product Spotlight: ASM Hydrasynth Synthesizer
If you're in the sound design world, we probably don't need to tell you too much about why the ASM Hydrasynth is a world-class synthesizer. For the uninitiated, this dream synth delivers maximum flexibility with a user interface that allows you to edit patches in a streamlined format. It's simple to create sounds and just play! Also important to note is that the Hydrasynth features a Polytouch keybed for polyphonic aftertouch over each note.
Black Friday Deal: Huge Savings On Avid Pro Tools &  Sibelius
Product Spotlight: Avid Pro Tools Ultimate Software
Avid's Pro Tools has been the lifeblood of the recording industry for years, and Pro Tools Ultimate is the ultimate version of the award-winning software. This tier of Pro Tools offers a maximum of 2048 audio tracks, 1024 aux tracks, and 512 instrument tracks for massive projects. In addition to an impressive 256 channels of native I/O, Pro Tools Ultimate offers even more workflow enhancements, including additional VCA tracks, master tracks, and video tracks.
Black Friday Deal: 10% Off Flock Audio Patch Series
Product Spotlight: Flock Audio Patch System
Whether you're working in a home studio or a world-class recording facility, a patch bay is a must for keeping your sessions flowing. Enter Flock Audio! The brand's digitally controlled analog patch bay systems can streamline your workflow and make patching gear easy. The PATCH System features four connectors on its front panel, allowing you to quickly integrate gear into your set-up via the Flock Audio PATCH APP.
Black Friday Deal: 20% Off Gamechanger Audio Plasma Pedal, Plasma Coil, & Light Pedal
Product Spotlight: Gamechanger Audio Light Pedal
Ever think you'd have an actual spring reverb on your pedalboard? Neither did we, but we're here for it! The Gamechanger Audio Light Pedal legit changed the game by creating the world's first analog optical spring reverb system. This pedal is the perfect tool for achieving classic reverb sounds and exploring unique tremolo, modulation, and shimmer opportunities.
Black Friday Deal: Save Up To $300 on IK Multimedia Software & Interfaces
Product Spotlight: IK Multimedia T-RackS Tape Machines 80
It's tough to talk about just one of IK Multimedia's incredible plug-ins, but the T-RackS Tape Machines 80 is one of our favorites. This emulation of the legendary Studer A80 features four different tape formulations for offering different sounds. Take advantage of 250 (warm with slight distortion), 456 (warm, round), GP9 (minimal distortion and compression), and 499 (high frequency definition) to add something special to your next track.
Black Friday Deal: Save Up To 15% On Mellotron
Product Spotlight: Mellotron Micro Synthesizer
There's just something very inspiring about sitting down at a Mellotron Micro. The 25-key synthesizer features over 100 Mellotron and Chamberlain tape sounds, allowing you to expand your sonic palette infinitely. Want to add french horns to a track you've been working on? You got it! Need a plucked harp for a mini-symphony you're creating? The Mellotron Micro has got your back. This ultimate Mellotron recreation will fit perfectly in your studio or on the road.
Black Friday Deal: Free Patch & Tweak Book With Select Moog Synthesizers
Product Spotlight: Moog Subharmonicon W/ Free Patch & Tweak Book  
Moog recently released a beautiful hardcover book called Patch & Tweak, which features 200 pages of unique synth techniques, patch ideas, sound design tips, and so much more. When you pick up a Moog Subharmonicon (and other synths from Moog) during our Black Friday Sale, you'll get a free copy! Crack it open to learn more about how your new gear functions and find ways to get out-of-this-world sounds.
Black Friday Deal: Free ARC-USB Remote W/ RME Fireface UFX II Audio Interface
RME's Fireface UFX II is a 30x30 I/O interface with low-latency hardware and driver designs. One of the most significant benefits of the interface is its unique routing and mixing control via TotalMIX FX, which works perfectly with the free RME ARC-USB remote. This indispensable tool offers remote control over the most commonly used actions and commands of TotalMix FX. 
Black Friday Deal: Save Up To $350 On Select Roland Gear
Product Spotlight: Roland TR-8S Rhythm Performer
Roland's drum machines have been essential to the modern pop, hip-hop, and rock landscape. The Roland TR-8S combines all those classic sounds into one desktop drum machine. We're talking about the 808, 606, 909, 707, and 727! They're all here! You can even incorporate preset and custom samples, creature unique hybrid kits, and enhance your sounds with onboard special effects.
Black Friday Deal: Save Up To $500 On Select Universal Audio Interfaces
Product Spotlight: Universal Audio Apollo X4 Audio Interface 
The phrase "desktop interface" gets thrown around a lot, but the Universal Audio Apollo X4 is like a desktop interface on steroids. Not in terms of size necessarily (this is still a sleek option that fits on your desk), but in terms of power. The Apollo X4 features four Unison-enabled microphone preamps, UAD Quar Core processing, built-in talk mic, eight additional channels via optical ADAT/SPDIF, and so much more. 
Black Friday Deal: 20% Off In Stock XLR Cables & Patch Cables
Is there anything more frustrating than not having the right cable? What about knowing you have the right cable, but it's missing? Vintage King wants to help you out by letting you stock up during our Black Friday Sale on select XLR and patch cables. If the cable is in stock at Vintage King, you can save 20%! Bring home everything you need to keep your studio functioning and your attitude zen.
If you want to find more ways to save during our Black Friday Sale, we're here to help! Please contact a Vintage King Audio Consultant via email or by phone at 866.644.0160.