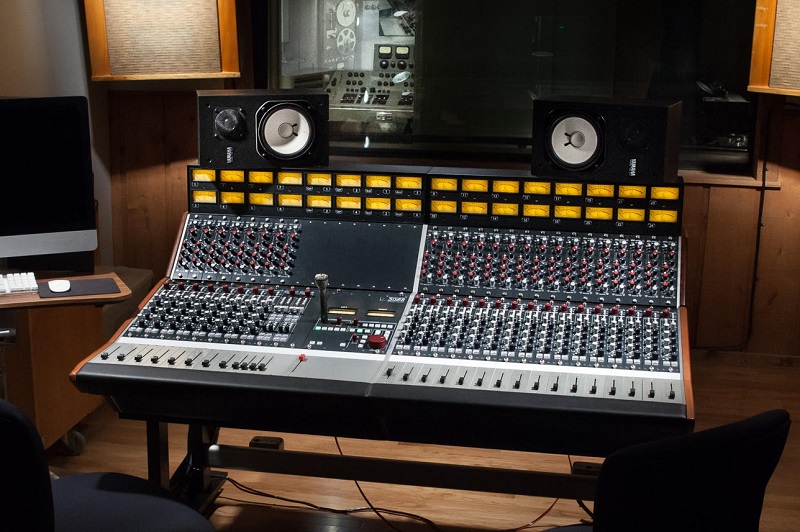 Viewed by many as the father of modern recording, Rupert Neve spent many years pioneering the consoles that are still most desirable in the studio market today. With classic circuits like the 1073, 1081, and 2254 compressor, Neve established nothing short of a dynasty with his iconic, fantastic sounding modules.In our new Buyer's Guide, we'll be diving into the history of Rupert Neve's current brand, Rupert Neve Designs, and offering info on its consoles, outboard gear, and more. Let's get started by learning more about the man himself in our classic Make Your Mark.
---
The History Of Rupert Neve Designs
In the early 1970s, Rupert Neve sold his company to AMS, which would become AMS Neve. He spent the next several years doing work for companies like Focusrite and Amek, lending his expertise to many and continuing to innovate the sound of recorded music.
After becoming an American citizen and spending time at Taylor Guitars, Rupert set-up shop in Wimberly, Texas in 2005. This would become home to Rupert Neve Designs and the brand would focus on integrating new ideas into Rupert's classic sonic designs. Watch our Inside Look on Rupert Neve Designs below to learn more about how the brand came to be and what daily life is like in the shop.
---
Rupert Neve Designs Consoles And Mixers
Rupert Neve Designs 5088 Shelford Console
For those looking for a full size, world-class professional console, the 5088 is Rupert Neve Designs' answer. No explanation needed when it comes to the pedigree of a Neve designed console, that's why so many vintage ones are still in use. The 5088 is top of the line, and fully discrete, as you've come to expect from Rupert's work. This lends the console its signature warmth and makes for no crossover distortion that you'd find in consoles with ICs. If you love the Neve sonic signature, here's a modern way to get your studio's centerpiece to be full of it.
For in-depth information on the Rupert Neve Designs 5088 console, check out our Buyer's Guide on the console here.
Rupert Neve Designs 5088 Standard Mixer
If you're looking for the same topology and sound of the full-sized 5088 console, but don't need the larger I/O, the 5088 Standard Mixer is the answer for you. Same great modules, same great sound, but in a 16x8x2 mixer. Much more affordable, and still packed with the great sound of Rupert Neve Designs' gear.
Rupert Neve Designs 5060 Centerpiece
The Rupert Neve Designs 5060 Centerpiece is an excellent choice for smaller studios, as it's a desktop mixer that's built to Rupert's standards. With the fantastic RND mix buss section, five high quality faders, VU meters, and the classic RND Silk controls, summing your sessions is a breeze with the 5060. Custom transformers impart an unmistakable sound, and the RND quality will turn heads every day.
Rupert Neve Designs 5059 Satellite Summing Mixer
Analog Summing is more popular than ever, and Rupert Neve Designs is one of the best at it. When it's time to impart analog definition and tone on your DAW-based mixes, these mixers are the way to do it. The Satellite 5059 is a 16x2 summing mixer that fits nicely right into the rack of your hybrid studio set-up, and you're getting the custom Rupert Neve transformers in this high-end solution. As always, the Class A design ensures that you're getting the most musical signal path.
Rupert Neve Designs 5057 Orbit Summing Mixer
If you're looking for a more streamlined summing mixer, check out the Orbit 5057. It offers the same classic Neve sound and versatile Texture controls in a compact 1U chassis design with DB25 inputs and XLR outputs. And at just $1999, it's one of the most affordable ways to integrate 16 channels of Class-A Neve circuitry into your mix. Featuring Rupert's famous custom audio transformers and Silk Red & Blue circuitry for variable harmonic saturation, the Orbit delivers stunning depth and clarity.
---
Rupert Neve Designs Outboard Gear
Rupert Neve Designs Shelford Channel
Of the complete Rupert Neve Designs product line, the Shelford Channel is the culmination of the colored sounding essentials. The Shelford Channel is a full channel strip that features a preamp section designed with the classic Neve sound (transformer-based, all discrete), and is followed by an EQ section that is basically a "Best Of" features of the classic Neve EQs. To wrap it all up, Shelford Channel features a fantastic Diode Bridge Compressor, inspired by the design of the 2254. Those wanting an all-in-one signal chain with the signature sound of RND will find this to be the ultimate channel.
Rupert Neve Designs Portico II Master Buss Processor
Another offering for the end of your mix's signal chain is the Portico II Master Buss Processor. It's a great way to tie your mix together, as you're getting a stereo compressor, separate limiter, a Stereo Field Editor control, coupled with fantastic input and output transformers. One of the main points to note with Rupert Neve Designs gear is the low noise. It's virtually non-existent. Those looking to hit their 2-Buss with the sound of Rupert Neve's iconic work will find this unit irresistible.
Rupert Neve Designs 5254 Dual Diode Bridge Compressor
The 5254 Dual Diode Bridge Compressor utilizes the same circuit as the Shelford Channel, but packs two channels of compression into its 1U frame. Whether you are using the 5254 for dual mono compression or running it in stereo, you'll be able to add warmth to tracks and glue mixes together with more flexible controls than ever before. Each channel of the compressor features knobs for Threshold, Gain, Blend, Ratio, HPF, and Timing.
Rupert Neve Designs Portico 5024 4 Channel Mic Preamp
The Portico 5024's input modules are fantastic, but you probably already know that. For a nice front end solution, Rupert Neve Designs brings you 4 channels of the Portico input section in a tidy 1RU unit. With 72 dB of gain, you've got power to spare, and with the Silk controls, you're set on harmonic texture. It's hard to find a rack of pre's finer than these.
Rupert Neve Designs 5211 2 Channel Mic Preamp
This Rupert Neve Designs 2-channel preamp is an excellent choice for those wanting versatility between clarity and color. The 5211 features a transformerless input and adds the Silk control for saturation control, which will impart transformer warmth on the way out. Use this as a less colorful Neve option, or go full on vintage on the way in.
Rupert Neve Designs RMP-D8 8-Channel Mic Preamp
New for Rupert Neve Designs is the groundbreaking RMP-D8. This 8-channel mic preamp uses the same preamps you've loved from their other products, but is designed to use in live remote scenarios and studios with Audio-Over-IP set-ups. It's Dante enabled and has mastering-grade conversion built-in.
Rupert Neve Designs Master Buss Processor
When more and more engineers began using the RMP-D8 as a converter for their studio, Rupert Neve Designs saw that there was a need for a standalone A/D converter with Rupert's legendary Silk circuits. With the release of the Master Buss Processor, the brand has given users the ability to choose between two different analog paths. The first is a Class A transformerless path for transparency and the second is a transformer-coupled path. The second path features both Red and Blue Silk variations, which will give your audio tracks the weight and punch they deserve.
Rupert Neve Designs 5017 Portico Preamp/Compressor
Featuring the Portico's customer transformers, the 5017 Portico preamp and compressor sounds smooth and musical. With a Portico style mic pre, we're off to a good start. Tossing an opto-style compressor into the signal chain, you're getting some nice compression on the way in when you need it and smooth compression at that. This one comes in a smaller, robust footprint for travel use.
---
Rupert Neve Designs 500 Series Modules
Rupert Neve Designs Portico 511 Preamp
The classic module of Rupert Neve Design's 500 series offerings, the 511 gives you the Portico's preamp section, with a High Pass Filter, and Texture control as well. Same great Portico tone, just in a lunchbox sized module.
Rupert Neve Designs Portico 517 Preamp
Another Portico style preamp in 500 Series form, this time coming to you with a fantastic compressor built-in. The Portico 517's Silk control is there for texture, and the input circuit is the identical beloved Portico mic preamp. A lot of tools from one module!
Rupert Neve Designs Portico 542 Tape Emulator
Here we have Rupert Neve Designs' answer to the idea of a "color box." The Portico 542 works to give you the sound of tape, and allows you to saturate as needed for vintage vibe. This little unit will bring out musical harmonics in recordings and bring a smile to the face of users wanting the tape sound.
Rupert Neve Designs 551 EQ
In a small 500 series module, Rupert Neve Designs has packed three bands of classic Neve style EQ. For these, the company revisited Rupert's most sought after EQ designs, and brought you the "greatest hits." With an inductor style design, the 551 EQ offers nice harmonics as the circuit saturates. This EQ brings Neve style EQ to the lunchbox format.
Rupert Neve Designs 543 Mono Compressor
Here we have the same circuit of the 5043 mentioned earlier, tossed into a smaller footprint for the 500 series. You're getting the same compression and limiting, simply in the nice small package of the Portico 543.
Rupert Neve Designs 535 Compressor
Here we have something truly special, the Rupert Neve Designs 535 a diode bridge style compressor for the 500 series format. The 2254 compressor of classic Neve consoles fetches an absurd amount of money for a vintage example, and this unit delivers the same kind of compression for way less, and in a new stock, small package. With added functions to improve upon the old design, this small unit is sure to bring massively satisfying compression.
---
Rupert Neve Designs Studio Accessories
Rupert Neve Designs 500 Series Racks
In two different sizes, the Rupert Neve Designs R Series offers 500 series racks to power your modules. Choose between a six slot or a 10-slot, and fill them up with your favorite 500 series units. It should be noted, these RND racks are robust and yet still some of the most affordable on the market.
Rupert Neve Designs RNDI Active DI
The signature sound of RND comes to a DI unit. Active and Transformer utilized, these will give great depth to bass, keyboard, and any signal being tracked with DIs. Available in single-channel and stereo units.
Rupert Neve Designs RNHP Headphone Amp
Rupert Neve decided that the world needed top-quality options for headphone amps, because well, we do. Based on the headphone circuit in the 5060, this reference-quality headphone amp unit brings you RND level sound and build quality.
If you have any questions about Rupert Neve Designs products or would like to purchase any of the gear mentioned in this blog, please contact a Vintage King Audio Consultant via email or by phone at 866.644.0160.