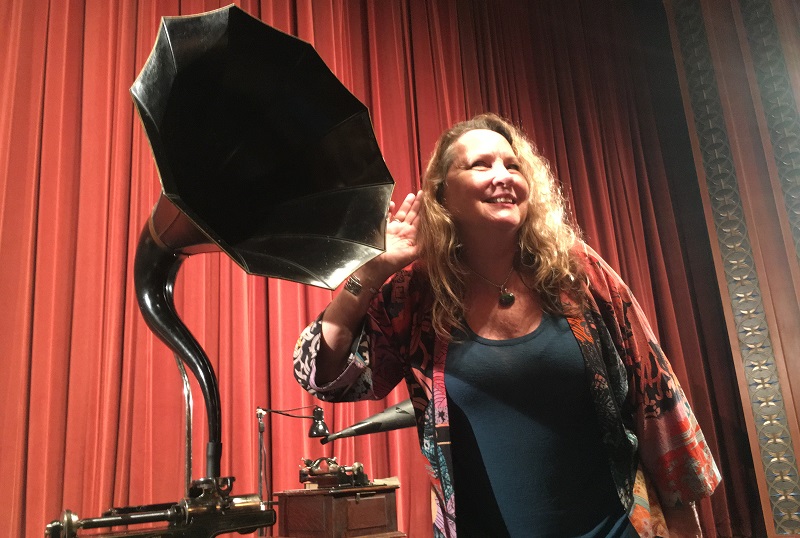 Producer/engineer Lenise Bent has been working in the entertainment industry since she was just eight years old. She began her career as a member of the Screen Children's Guild, which lead to studying film and TV production in college. That is until she stepped foot into a recording studio for the first time.
After dropping out of college to join the Sound Masters Recording Institute (one of the only audio schools in Los Angeles at the time), she was hired as an assistant engineer at The Village Studios in Los Angeles. There where she would build an incredible resume working on iconic records like Aja by Steely Dan, Breakfast in America by Supertramp, and Tusk by Fleetwood Mac.
Lenise quickly graduated from assistant to chief engineer for producer Mike Chapman, with whom she recorded the platinum-selling record Autoamerican for Blondie, as well as songs for The Knack, Suzi Quatro, and many more.
We recently had the pleasure of chatting with Lenise about her journey from the television studio to the recording studio and back again. Read our latest 20 Questions below to learn more about her minimalistic approach to recording, her favorite outboard gear, and her advice for up-and-coming engineers.
1. How did you get started making records?
I grew up in Los Angeles and started working in the Screen Children's Guild when I was eight. I was always fascinated with film, so in college, I studied television and film production. But my boyfriend was in a band, and his guitar player, Roger, became Leon Russell's engineer. Leon had a home studio at the time and nobody had home studios back in the 70s.
I was a huge fan of Leon, so when Roger invited me over to the studio I dropped everything and went straight there after school one day. Leon actually answered the door himself and I almost fainted. He invited me in and I heard all of this great music coming out of what would have been a dining room, but they had converted the house into a recording studio. So I walked in and I heard 21 tracks of background vocals because Leon had a Stephens Electronics 40-track tape machine, which not many people had at the time, only three were ever made. It just sounded like the angels were rejoicing. It was for a song on his album Will o' the Wisp, and it was just so majestic. I saw the console and the tape machine and all of the gear, and I was already a gear head from doing audiovisual stuff, so I said to Roger, "Show me how to work this."
That's when I dropped out of University and signed up for Sound Masters Recording School. I was actually in their very first class. When I graduated I had some great skills because I had the advantage of learning from Roger at Leon Russell's studio when I wasn't in class. It wasn't like recording schools now where they have studios and control rooms and actually emulate what the industry does. Back then, we were just sitting in the ballroom at some hotel, with the instructor talking about sound. He talked about phasing and sawtooth waves and the Doppler effect and compression characteristics and signal to noise ratio, he talked about a lot but never demonstrated any of it.
I thought I had made a huge mistake by dropping out of college because I had no idea what they were talking about. I was so upset, I called Roger at like midnight after class let out. He had me come over to Leon's studio the next day and was kind enough to teach me how to apply what I was learning.
2. What was it like working at The Village?
By the time I graduated, I had a lot of hands-on experience. One very cool thing about Sound Masters, even though they didn't have their own facilities, they held classes at Capital or Conway studios every three weeks, so we also got hands-on experience in proper studios. I was really comfortable in the studio, which is a big part of the job, so I applied for a job at The Village Recorder in West L.A.
Fortunately, the owner of The Village had this great idea, he felt that women would make really good engineers. He thought we had better attention to detail, that we were more nurturing, and that we wouldn't compete with the artists as much as men would. I don't know if that's sexist or not, but it didn't feel sexist at all. There was already one female assistant engineer there named Terry Becker, and the day I got hired I was hired along with Barbara Issak, and two months later Carla Frederick was hired. Out of six total assistant engineers, four of them were women. That hadn't happened before, and that hasn't happened since, at least not on that level.
I'm very fortunate to work at a studio that was so open to having women working in the industry. It was a boys club, and it kind of is now, but I never got that feeling because there were so many women working there. Even one of the techs was a woman, Wendy Bluth. She's an astrophysicist now.
So I was not aware of gender issues. I was so myopic about what I wanted to do. Once I discovered recording studios and that you could make records this way, I was absolutely driven. Back then they would say, "This isn't something women do. There aren't enough jobs." You know, all the things they still say now. But I didn't care. I just said, "I don't need you to tell me no, I need you to tell me how." I didn't see any reason why I couldn't do it. Somebody did it, and I wanted to be that person, so get out of my way.
3. What's your philosophy on recording?
The most important thing about recording is that it serves the song. A poorly recorded version of a great song is still a great song. But if you don't have a great song, it doesn't matter how well you record it, it's still not a very good song. It may be technically correct, and the production value could be wonderful, but no one is going to care. It's about finding the song first and then interpreting that song sonically in the best way possible.
My philosophy from the beginning was to work in the best studios, with the best music, performed by the best musicians, and produced by the best producers and engineers. I just wanted to learn from the best and maintain that integrity. That's what's important to me. I'm not very good at compromise, but that doesn't mean it has to be difficult. I record very simply because it's not always necessary to manipulate the sound.
Typically, I like to get the sound in the studio. Use the right mic and the right amps and the right space. Tune those drums, change the heads, switch out the kick, swap the snare. Whatever it takes to get the sound right. I love recording full bands playing together because there's an energy or a vibe that happens when people play together. For the basic tracks, I try to capture an emotion and a vibe so that anyone recording overdubs is experiencing that feeling as well.
4. Do you prefer an analog or digital workflow?
I'm comfortable with analog or digital, which is something I can bring to a session that a lot of people can't these days. I love the sound quality of analog, but digital is wonderful too because you can go back and fix things more easily. Whether I'm recording analog or digitally, my job is to inspire and capture as a producer, and also interpret as an engineer.
I'm usually a co-engineer with a Pro Tools operator. I can do Pro Tools too, I have it at home for overdubs and stuff, but I'd rather be in the studio and have somebody else running Pro Tools while I adjust mic levels and outboard gear. That's my favorite, but that doesn't mean I'm not going to record something just because somebody doesn't have the budget for a big studio. I'll record them on my iPhone if I have to. Quite honestly, I've recorded several sounds on my iPhone and dropped them into sessions.
It's really just knowing what you're looking for and what sound you want to get. You just have to use your ears, your best microphones are your ears. You have to know what you're listening to. It's an acquired skill.
5. What's your favorite part of the process?
Tracking dates. I love recording bands. There's a lot of energy and everyone's adrenaline is running. You get in the studio and downbeat happens, it's exciting. When you hear that song you had a demo of and you finally cut it, it's just like "Whoa, there it is!" And I love mixing. And producing vocals. I like it all!
6. What made you decide to get into post-production?
Well, I'd been making a lot of records. I went from working at The Village to getting hired by Mike Chapman. We cranked out album after album. I worked on a lot of records with him. It was great but, we would finish one and start another one right after. There was never any break. By the time we started working on the Blondie record, I had stomach cancer. I made it through the album, but the day after mastering I went down to Mexico and the doctor said, "Quit your job or die."
I knew the Blondie record was going to be big — of course, it wound up going platinum — but working under those conditions was excessive. There were long hours and crazy times. I was living on Roscoe's chicken and waffles. I wasn't taking good care of myself. My body said, "I'm cutting you off. You're not going to live like that anymore." So I had to take a little cancer break, and fortunately, I was able to do that. I knew a lot of it was the stress level from the intensity and craziness of the job. I just didn't want to put myself back in that place.
So when I was ready to go back to work, I started at the bottom working in post-production. My first gig in post-production was working on the Disney cartoon catalog, doing foreign music and effects tracks. I had to take out any dialogue and replace music and sound effects so they could dub in any language they wanted. My first shift was from 1 AM to 9 AM.
7. What's an average day at the office like for you now that you've started making records again?
My day is different every day. I do all sorts of stuff, which is really cool. I went into teaching and consulting with singer/songwriters. I'm also a part of some musical non-profits like Worldwide Musicians United, so I might have a board meeting or a recording session for them.
I recorded an all-analog record for a band called Primal Kings, who are currently raising funds to cut an all-analog vinyl straight off the 1/2" 2-track tape masters, which was originally recorded to 2" tape. We also digitized the master for downloads and streaming, and I was very pleased with how that turned out. Warren Sokol did that over at United Mastering.
Being a producer is so different these days. If you're signed with a big label, that paradigm has shifted tremendously. Being in the studio is the optimum thing to do, but once you finish a project there's a lot of additional work to take care of as well, like printing stems and delivering accurate metadata.
I also do a lot of speaking. I'm preparing to go to Mexico City for the Audio Engineering Society Mexico and sound:check Xpo. I'm the last speaker for the conference so I'm working on my two-hour presentation today. There's all sorts of stuff. Every day is something new.
8. What mics do you use most often?
If I had one mic it would be a Neumann U67. It's just a go-to, tried and true mic. It works on guitar amps, vocals, drum overheads. The only issue is they're very expensive, and the older ones can start to break up and sputter after several hours of moisture hitting them. There are also some great new mics that are emulations of the U67 that I really love.
I won a Sterling ST69 at the Recording Academy golf tournament in a raffle, but I didn't try it for a long time. When we were working on the Primal Kings record, I tried it out on background vocals and the singer loved it so much he wanted to recut all the lead vocals. It's a great tube mic with a fresh sparkle.
I use AKG C-414s and Telefunken 251s. I learned how to record using those mics, so I know what they're going to do and what they're going to sound like. I use the Shure SM7b on a lot of instruments too.
9. What EQs do you reach for most often?
I use very little EQ. I try to EQ in the room using mic placement. Having said that, I'm a Neve girl. I love the 1073s, I'm really comfortable with them. I also like the SSL EQ plug-ins. But I try not to do that because that's how I was trained. That's what Roger Nichols taught me, and Al Schmitt will say the same thing.
10. What about compressors?
I use the LA-2A and the 1176 a lot for blending and compressing. But when I was working with Mike Chapman back in the day, we had a lot of female artists with a lot of dynamics in their voice. Besides learning the song and riding the vocal, I would use the dbx 160. It has a very natural sound to my ear and could hit a vocal pretty hard without pumping. At the time they were fairly inexpensive, I think around $200 but I could be wrong. Studios usually got a pair of them since they fit in one rack space together. Today, I want a lot of dynamics for the type of music I do and they are great. They really stand the test of time.
11. What's the least expensive piece of gear you've ever used on a record?
I use Shure SM57s all the time. I love them. You can hammer nails with those things, as well as record. I record to my little Zoom H2n recorder, too. I love the way that thing sounds. I transfer those recordings into sessions from time to time.
12. What's the weirdest thing you've ever done to get a specific sound in a recording session?
I stumbled upon one of my favorite techniques years ago. I was assisting at The Village and I just finished a big tracking date where one of the instruments was a Hammond B3 with a Leslie amplifier. My job was to tear down the sessions and set up for the next day's session.
A friend of mine was with me and he sat down at the piano as I was setting everything up. I went into the control room to make sure the mics were working. I had two AKG C-414s on the piano in Studio A. The Leslie was back in the iso-booth with the door open, but it was still on. There were mics on the amp so I brought them up and the sound of the piano was coming through the Leslie and it was so spooky. It was like a really sick carnival sound. Like a weird calliope sort of thing. I had never heard anything like that before. I've used that trick here and there for an effect.
13. What do you do in your free time, when you're not making records?
In my free time? That cracks me up. I try to make time for my mom and my kids and my family. I also do a lot of donating to the Battered Women's Shelter and helping people get organized. I pick up donations and take them to people or organizations like the VA hospital. I like to bike ride, but I haven't done it in ages. I was a mountain biker for a while, but I'm so busy now. I like to read a lot.
14. Who are some of your favorite authors?
I love anything W. Somerset Maugham wrote, especially The Razor's Edge, and Of Human Bondage. I like Tom Wolfe, he was great. I love biographies, usually about music or history.
15. What's one of your favorite albums of all time?
Crime of the Century by Supertramp. When I heard it I said, "I want to make records that sound like this." This was before I had even started recording. The quality of that record just blew me away.
16. What's one record you wish that you had worked on?
Crime of the Century by Supertramp. A band I really love is Los Lobos. I wish I had worked with them. Either Kiko And The Lavender Moon or The Neighborhood. Those records are so diverse. Anything from slapping punk sounds to El Norte music to Americana to rock and roll or even jazz. I just love them.
17. What new music have you been listening to lately?
I listen to new music all the time on the radio. I listen to a college station called 88.5 FM here in L.A. and they play a lot of new music, as well as some local bands. There's a radio show that I stream called Eclectic24 from KCRW out of Santa Monica City College. They have a wonderful, eclectic collection of music. I don't listen to classic rock stations because I was there, I don't need to listen to that again. I like new music.
I listen to a lot of the Avett Brothers, Brandi Carlile, Leon Bridges, and Hosier. I like The Record Company, Black Keys new record "Lo/Hi", "Uh-huh" and "Lottery" by Jade Bird, and Vintage Trouble, especially "Knock Me Out". I love R&B and Americana. Anything with good singers or good riffs. I also love world music; African, Brazilian, Celtic, you name it!
18. What has changed most about your production style or technique over the years?
How much I get paid. The budgets have gone way down. I used to make a lot of money making records because you could. I know there's money to be made, but it's a whole different process now.
Production-wise, not a lot has changed. My goal starting out was to work with the best of the best and I got to do that being at the Village. I got to mix and match techniques that I learned from the greats. Learning how to work with people was really important, too. Your social skills are paramount in the studio. You have to be able to inspire a performance and create the trust the artist needs to have in you.
When I agree to produce an artist, two things happen; I become the newest member of that band, and I'm their biggest fan. Those two things have to be in place because that means my production decisions have the artist's best interest at heart. They need to know that. And if they do, they're much more willing to try things out. I learned that very early on. That inspires performances, too. My enthusiasm and passion need to be in place. If I don't feel a buzz listening to your project, I'm not the right person for it, because there's someone out there who will. I need to be inspired just as much as the artist.
19. What's one piece of gear you can't live without?
I don't have one! There are so many great options out there, I don't think that there's one item I rely on. I don't carry one piece of gear with me wherever I go. What's important is knowing what you're going for first. There's just so much great gear out there, there's no way I could choose just one piece.
I learned that while working with Roger at Leon's house years back. At the time, he was working on what he called "his little invention." Did I mention his name was Roger Linn? He taught me that it's important to have an image of what you're trying to achieve. Then you can experiment with different ways to get there.
20. What's one piece of advice you have for aspiring producers or engineers?
My advice is to learn what good audio songs like. Understand what things sound like and what dynamics are. Learn why you use that plug-in you're using—don't just settle for the preset. Find out why you like it, and why you want to use it. Have integrity when it comes to sound quality. Watching a few YouTube videos doesn't make you an engineer any more than taking an art class makes you Picasso.
There's an excitement to completing something for the first time. Just because you learned a few of the tricks, that isn't good enough, it's an acquired skill. You have to understand the process. Learn the basics of recording techniques and your gear but, just as importantly, how to work with people. You can be the best Pro Tools operator in the world but if no one wants to be in the same room with you it won't matter.
The topic of my presentation at Sound Check Xpo is that audio engineers are recording artists too. We are artists who record, artists of creativity. Yes, our job is to interpret what the producer is saying emotionally and technically. The gear in the studio and our acquired recording techniques are the pallet that we paint with and the instruments that we play.
My advice is to embrace the creativity and the artistry from a technical point of view. It's one of the few areas where art and science are at play together, where we use both sides of our brain. You have to learn to think outside the box.
Listen to some of Lenise Bent's work in the studio below by checking out tracks from Steely Dan, Blondie, and Supertramp.
&nbsp
&nbsp
If you're interested in learning more about any of the gear mentioned in this 20 Questions interview, contact a Vintage King Audio Consultant via email or by phone at 866.644.0160