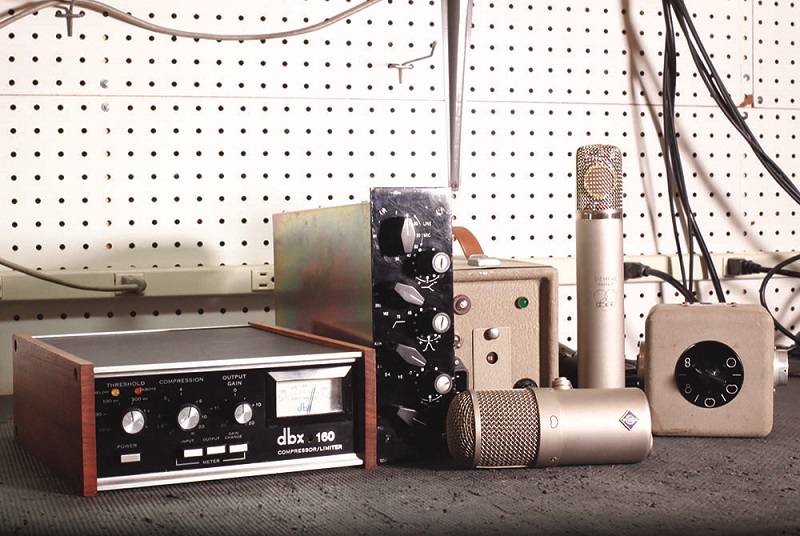 The world of the recording studio is a forever-changing landscape, as new products are being released daily to make our work as engineers easier. For some, this begs the question, "With so many contemporary tools for recording, mixing, and mastering, what's the point of buying vintage gear?"
There are many reasons why vintage gear remains an important part of the studio experience and record making process. Continue reading below to learn more about the differences in new and vintage equipment, how to make a safe investment in older gear and some of the ways Vintage King can offer you peace of mind.
---
Often Imitated, Never Duplicated
Most modern microphones and signal processors are based on the iconic designs of vintage recording equipment. Whether it's the Neumann U67, Telefunken ELA M 251 E, UREI 1176, or Teletronix LA-2A,  they've all been copied time and time again. This leads to one of the most asked questions we get at Vintage King... "What's the difference between something vintage and something new?"
The difference is the sound of the piece of the gear, which means everything in the studio. Vintage recording equipment has an unmistakable sound quality. The components that were available in the 1960s, 70s, and 80s sound different than those available today. Also, the heavy use of transformers, discrete electronics, Class A amplifiers, and capacitors in these designs gives vintage gear its rich, harmonics-heavy tones.
While modern manufacturers have taken great strides to painstakingly replicate the relics of the past, there is also the factor of time involved. Vintage microphones, outboard gear, and consoles have been used in studios for decades and their components are broken in (thanks to frequent use), in a way that could never be matched by new or fresh "new old stock" parts.
Even running a signal through a piece of vintage gear while it's in bypass can instantly make your signal sound better due to the sonic imprint of the components the audio is running through. Many vintage mics and outboard processors were built by hand, making them truly one of a kind. While each unit shares a similar sound, no two will ever sound exactly the same, which gives each piece its own character and helps your studio stand out.
Don't believe the hype? Watch our shootout below featuring a vintage U67 and the new Neumann U67 Reissue. While the modern U67 sounds amazing, there is an undeniable warmth to the vintage model that could never be replicated.
---
---
Inspiring Performers With Vintage Gear
Often, vintage gear comes with its own story to tell. A piece of equipment previously owned by an esteemed engineer or used by a famous artist has the power to inspire people in the studio and transport them to another era of recording.
When an artist walks into your studio and sees a vintage Neumann U47 in the vocal booth, they're going to deliver a more inspired performance. Every time you touch the knobs on your vintage 1176, you'll want to dial in the sounds of those classic records that passed through the same module years before.
Vintage pro audio gear is the perfect tool for cultivating a more creative aura in any studio. Vintage King clients like Electric Lady Studios, Blackbird Studio, Pete Townshend, Dave Cobb, Eric Valentine, and many more, have relied on us to deliver the best in vintage and offer their studio a taste of that timeless sound they've been searching for.
---
Buying Vintage Is An Investment
While you might be buying modern gear just for using in the studio (that's fine, that's what it's meant for after all), when you purchase a piece of vintage recording equipment, you're making an investment. Unlike the mass-made products released today, there can't be any more vintage gear made. There are only a finite numbers of these classics still around.
There was a time a few decades ago where these beloved artifacts of the classic recording era were being sold for cheap as new technology became in fashion. As the sound of vintage recordings became in vogue again, many users realized how great classic gear was. Prices started to rise and those who bought in early on vintage gear earned their money back and then some.
Since Vintage King started over 25 years ago, we've seen some items like vintage Neve 1073s appreciate in value by nearly 700%. U47s have appreciated about 1500%. Not all vintage items have this significant of a change in value, but most classic tried and true items have provided a fantastic return and many continue to gradually appreciate.
The question then becomes. "Would I like to spend a bit more on a classic that I will ultimately be able to sell for the same price or an appreciated value and use as a phenomenal tool," or "Would I rather buy a less expensive item that is also a very good tool, but depreciates in value over time?"
The current market for vintage audio gear is exploding and still full of opportunity. It's possible to find equipment at the right price and make a great investment, both in your studio's sound and your pocketbook. How do you ensure you don't pull the trigger on something that doesn't work? Keep reading.
---
The Vintage King Tech Shop
The Vintage King Tech Shop is a one-of-a-kind facility located just outside of Detroit, Michigan. Our team features more than 10 expert technicians, who are the most experienced in the industry, having spent hundreds of thousands of hours restoring and fixing vintage recording consoles, outboard gear, microphones, and more.
Every piece of gear that passes through our doors first must receive "Vintage King Certified" stamp of approval before it leaves for your studio. We put each piece of gear through our rigorous servicing process, which includes our team of experts testing, analyzing, servicing, and retesting every aspect of the equipment, down to the smallest detail.
Rest assured that whenever you purchase a piece of vintage equipment from Vintage King, it will be in the best shape its been in since it was originally released back in the day.
---
---
One-Year Warranty And A Wealth Of Knowledge
There's nothing worse than buying something vintage on an online marketplace or through a shady classified site, only for it to arrive DOA or to have it break down after working for a month. That's why we're proud to offer an industry-leading one-year warranty. Whether it's a circuit issue, a burnt capacitor, or maybe a broken knob — we've got you covered.
On top of that, we also offer a 30-day return policy. Maybe your client backed out of the big project you had planned. Maybe you get a call to go on tour. Maybe you decide it's just not the right piece of gear for you. Whatever the reason, just give us a call and we'll straighten it out for you.
At Vintage King, we know vintage gear better than anyone in the world. Our team of experienced Audio Consultants can help you find the perfect piece of equipment for your studio. Let us help you make better records and feel safe in the investment of buying a piece of vintage gear.
If you're interested in purchasing a piece of vintage gear for your studio or want to know more about the Vintage King Tech Shop, contact a Vintage King Audio Consultant via email or by phone at 866.644.0160